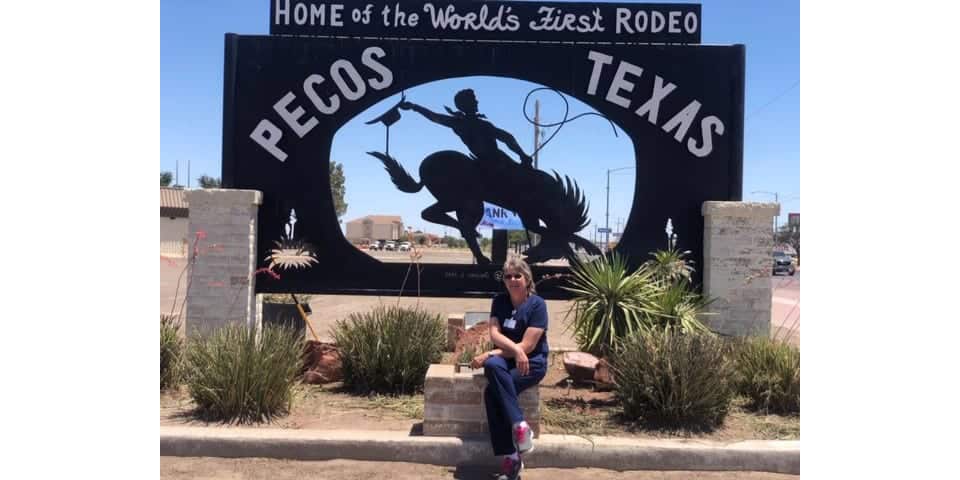 Featured Traveler: Barbara P.
Top Notch RN
Our July Featured Traveler is an RN with 25 years of nursing experience. Barbara P. specializes in Home Health and Long Term Care nursing and has been a Travel Nurse for four years.  She is originally from Indiana but has called Kentucky "home" for the past 20 years.
Driven by a strong desire to help people, Barbara enjoys teaching her patients about their medications, educating them on their illness, instructing them on managing their symptoms, and how to effectively care for their wounds.  She is currently on a Home Health assignment in Texas and tells us that this particular assignment may very well be her favorite thus far.  She is working in a small town and finds it's people exceptionally nice.
"The staff here is excellent. They have accepted me from day one and truly appreciate the additional help.  They make me feel like family."
Like most travel nurses, Barbara loves the adventure of meeting new people and learning about their cultures. So far, her assignments have taken her to Nebraska, Alabama, Florida, North Carolina, and Texas; her next stop will be in Vermont. But what Barbara really likes about Travel Nursing is the flexibility; she loves the ability to choose from various assignments and working where she wants to work.  She also likes the ability to take time off between assignments, on her own terms – scheduling time at home, on vacations, or visiting friends.
It is not surprising that Barbara has some valuable advice for other travelers: "Research travel agencies and talk to different recruiters. Be selective when working with a recruiter. Agencies and recruiters are all different. Find one that suits YOU best. The key to all great travel assignment lies in the Recruiter you select."
We are really happy that Barbara selected Convergence Medical Staffing and recruiter Dottie Hall. "My recruiter, Dottie Hall, is always available to help me with anything that I need. I have never had an issue that she has neglected or couldn't handle."  
Barbara continues:
At Convergence, the Credentialing Department is always on top of compliance, scheduling anything that I need for my assignments. They also schedule whatever compliance item I may need close to where I am located at the time. My payroll is always accurate and one time. I even receive time card reminders if they have not received my time card on time.
In conclusion, Barbara says, " These actions from different areas of Convergence show me that each department carefully watches over me, ensuring that each travel experience is the best it can be. You don't always get that at every firm."
Barbara, we are honored to "watch over you" while you give your very best in every travel assignment. Thank you!