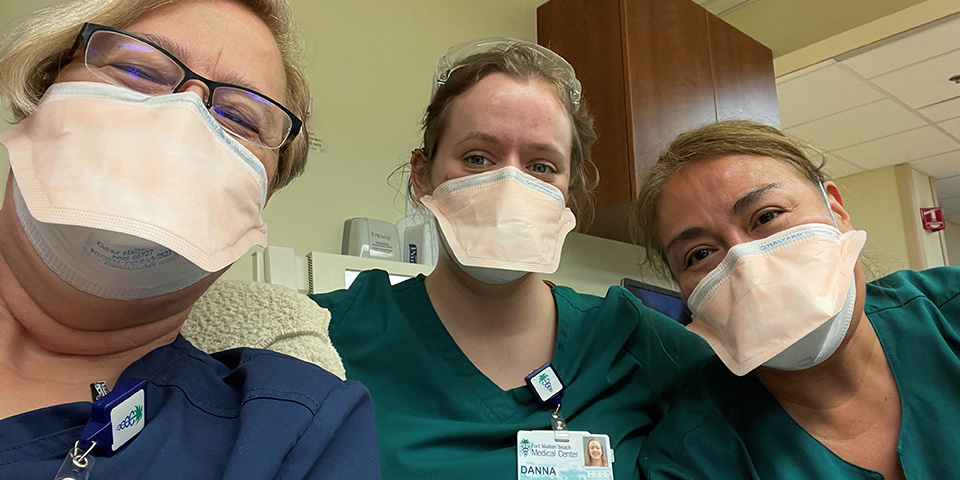 Featured Traveler: Catherine W., LPN
A military veteran who stays on the move.
That's "our" Catherine – the one on the left with the HUGE smile, detectable even beneath her mask!
Catherine is originally from FL and is currently working on assignment in Fort Walton Beach, FL. Catherine found nursing to be a logical career for her because her mother was a nurse and nursing had always been a part of her life. She is also a healthcare "veteran" having spent 21 years in the Army working in various specialties. Because she was accustomed to moving so much while in the military, Catherine decided that Travel Nursing would be a natural fit; and she loves it!
Although Catherine has enjoyed all her assignments, she says her favorite thus far was working in Corrections Nursing at a State Prison in Pelham, Ga. Catherine recognized that Corrections Nursing can be difficult, so she deliberately decided not to treat the inmate's crimes, but to instead focus on treating the inmates themselves.
I found the role very rewarding, and the inmates appeared to be grateful for someone that truly cared for their health.
Why does Catherine enjoy Travel Nursing? "I like having variety in my assignments. I know that if an assignment is not a good fit, I can move on to something new in a short period of time. I tend to select my assignments based on what I would like to learn or experience next, instead of just money or location, although both are important. "
Catherine likes working for Convergence Medical Staffing because "from day one, I have had tremendous recruiters who have gone above and beyond their jobs to ensure that questions or issues I have are handled. My recruiter, Terri is #1! She stays in touch regularly and has supported me well beyond my expectations. I couldn't ask for a better recruiter."
Regarding my interactions with the Convergence Staff- any of the few issues I have had have been resolved immediately and to my satisfaction. From applying to receiving my assignments, it's always been an easy flow.
What would this "veteran" say to new travelers? "Keep and open mind and be flexible." Solid advice from a solid Nurse!
Catherine, we appreciate your exceptional work and attitude! "Thank you" for letting us help you broaden your skills and your travel horizons!