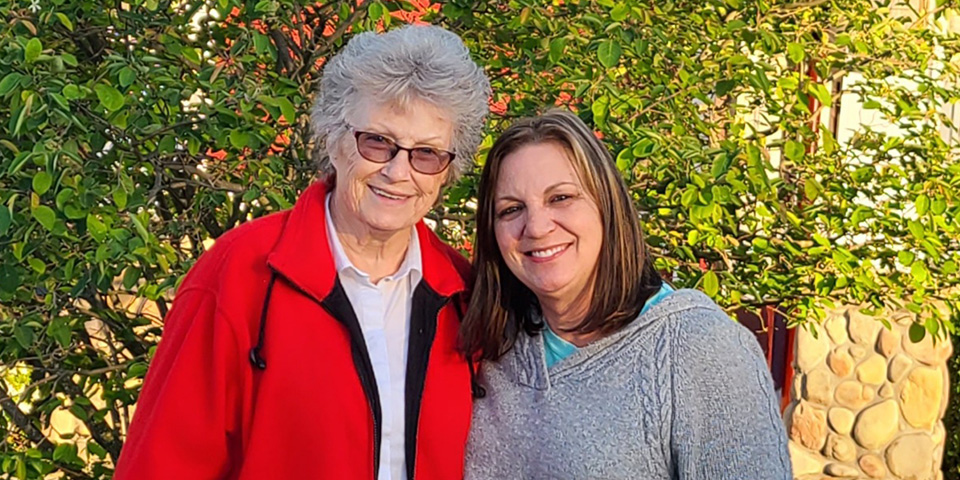 Featured Traveler: Jennifer P., LPN
A "Late Bloomer" Who Is Thriving as a Travel Nurse
The Convergence Medical Staffing Featured Traveler for June is pictured here with her Mother-in-Law Jean, whom Jennifer describes at her "mentor."
Jennifer says she would often tag along to work with Jean – a LTC nurse with 40 years of care experience. Apparently, that experience was enough motivation for Jennifer to take the next step.  A self-described "late bloomer" Jennifer graduated nursing school from Tennessee Technology Center at the age of 35.
I've always had a great deal of respect and compassion – especially toward the elderly"
Jennifer has been a nurse now for 25 years and has practiced primarily in Skilled Long-Term Care. However, as opportunities have arisen, and she has worked in Neuro Trauma and Long-Term Acute Care.
One of the things I love about nursing is that I can change into different areas to improve my skills and knowledge.
That is just how Jennifer started Travel Nursing. "Coerced" by a good friend and co-worker, Jennifer started her Travel journey just 3 years ago in a small town – Lake Mills, Iowa. That has been her favorite assignment so far.  But she loves Travel Nursing generally because "I have the choice to go pretty much in any area I want."
Jennifer says her Convergence Recruiter, Christie, is instrumental in helping Jennifer achieve her goals. "My recruiter Christie has gone above and beyond to help find areas and the hours that I have requested. (She) is always there if I need to vent or get advice; and she has always been encouraging when I am having a bad day."
"Thank you, Christie and ALL the Convergence Team, for supporting me and making my job better thereby giving me the opportunity to grow and see beautiful places!"
THANK YOU, JENNIFER! You may have "bloomed" later than most, but you definitely make a difference wherever you are "planted"!