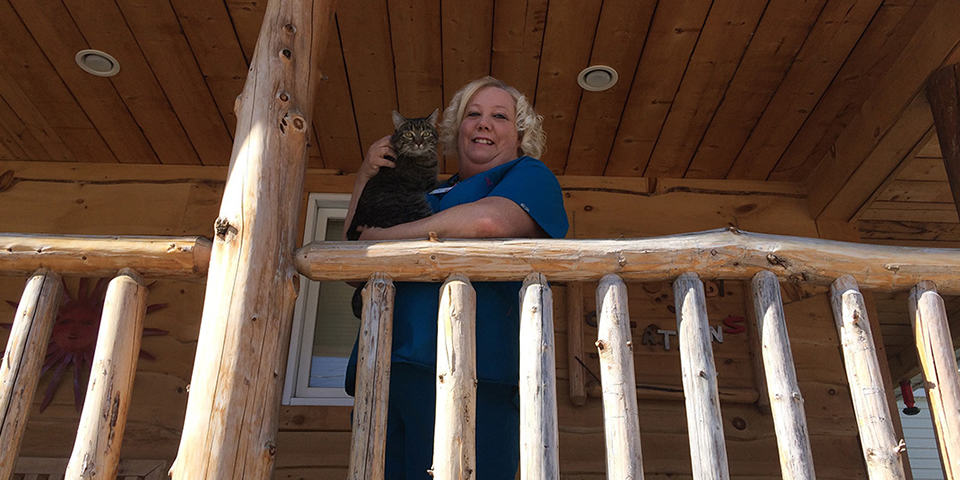 Featured Traveler: Angela K.
No Fooling!
For Angela K, an LPN from Lafollette, Tennessee, just a little bit of her southern charm paves the way for a happy travel assignment.  With 20 years of experience in Geriatrics,  Angela is currently on  an assignment in New Hampshire where she and her facility were so happy with her work, she was able to extend at the same location.
"It's heartwarming for the people you work with, work for and serve to be so glad to see you again after you take a break between assignments.  I also love how the staff responds to my southern accent – it's apparent to them than I am NOT from the northeast.  They all love my southern drawl and we laugh about it frequently."
Even though Angela has been a traveler for only one year, she is hooked. She says that traveling has helped her to work in new places while also spending more time with her husband – who travels with her.  Her advise to new and experienced travelers?  "Only those who travel know that this is truly a great opportunity that should not be passed up."  For new travelers: "Don't be nervous. You will have the time of your life while you are performing the job that you love!"
Angela continues: " Convergence offers so many wonderful opportunities to see the places I'm interested in visiting, and they have allowed me to expand my experience as a LPN.  My recruiter is wonderful at his job and always gets back to me within minutes.  He also helps me with any problems that arise, even though there haven't been many of those! I like that everything is so organized before starting an assignment."
"I highly recommend Convergence to any travel nurse.  They have excellent benefits and a wonderful staff of people who know me by my first name and are a pleasure to speak with each and every time I have a need or a question. Convergence and my current assignment co-workers consistently demonstrate that I am appreciated and part of their team.  I cannot begin to describe the gratitude of finding such a group of wonderful people who 'walk the talk'.
Well Angela – we love the way you talk too! Thank you for your lovely Southern Charm and your excellent care for your patients!