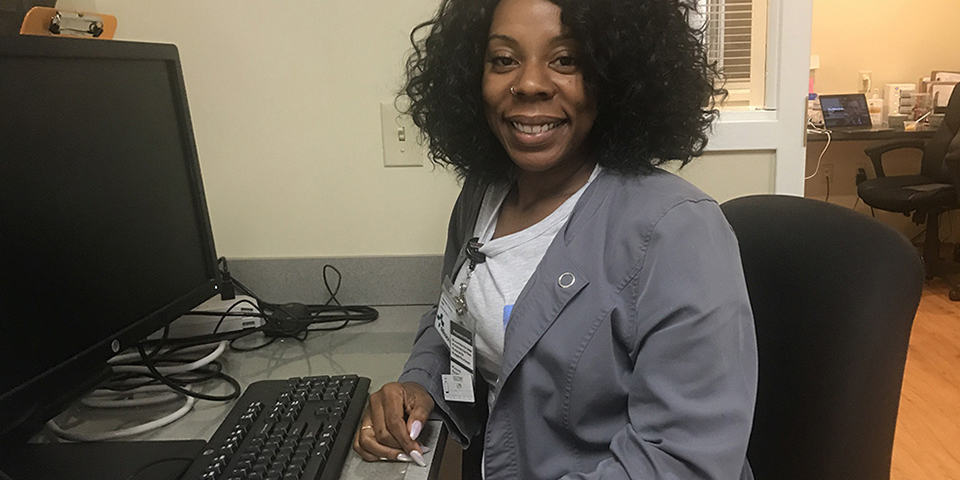 Featured Traveler: Destiny G., LPN
Meet Destiny G., LPN – Destiny comes from a small town in Virginia and is currently working an assignment in New Hampshire, specializing in skilled and rehabilitation nursing.  Even though Destiny has been a nurse for just over three years, she has been in healthcare for a total of 10 years.  As a Certified Nursing Assistant, Destiny was able to work with various segments of healthcare before she made a commitment. We guess you could say Destiny's destiny was to become a nurse!
We asked Destiny why she wanted to be a Travel Nurse and she responded: (she) "loves nursing and traveling and decided to combine the two and has not regretted it".   Although she is relatively new to travel nursing, she handles her assignments like a true Pro!  Destiny states that she loves exploring different cities and states, meeting new people and trying different local foods.
Each and every assignment is a real adventure and makes my work more fulfilling, she explains. Destiny is particularly proud of the fact that she cannot think of one day that she has clocked out and didn't provide her best level of care to her patients. "That's the difference traveling creates. You keep an open mind and focus on your work." 
What did she say when asked why she selected Convergence as her travel firm?  "My recruiter, Christie, is absolutely amazing!  Being able to select the locations I want to travel to is great!  They have awesome paid benefits as well.  My recruiter makes my job and assignments much more enjoyable.  She is always available when I need her, day or night."
Her advice to other travelers and those considering travel nursing is to "explore your options, communicate with your recruiter and never be afraid to ask questions.  Take chances!
Destiny continues: "Convergence has great recruiters, benefits and plenty of locations to explore.  If you're looking for complete satisfaction, Convergence is the company for you".
Well Destiny, you know firsthand that we don't just hire anyone.  We pride ourselves in finding the BEST nurses… and you DEFINITELY belong!